500L Distillery Equipment
500L Distillery Equipment
YUXIN

China

30-40 days

200 sets per year
The distillery equipment included: the well-designed head, which is perfect for aroma distillation, with the screwed on swan neck, a spacer, and a generously sized condenser with cool water intake and drain. The newly designed still provides a well-formed head which allows the vapor to circulate better, an improved refining lentil with an effective integrated copper coil and an additional water drain.
Uncomplicated and practical professional equipment for everyone who simply wants to distil and experiment with different fractionating levels and alcohol content and, at the same time, do not place much value on a classical-looking still.
500L Distillery Equipment
Application:
This equipment can be used for making distilled spirit such as Gin,Whiskey,Brandy,Vodka,Rum and so on.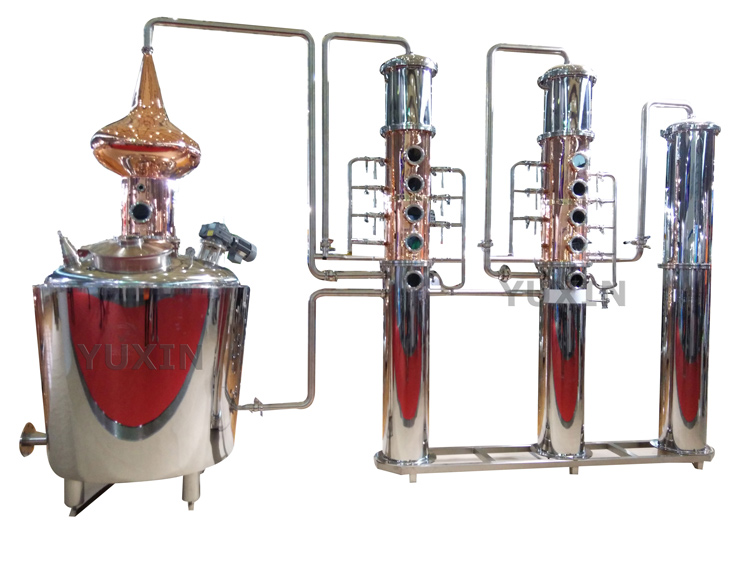 Product Parameters:
| | | |
| --- | --- | --- |
| Type | Volume | Component |
| Whisky Distillery Equipment | 50-5000L | Still pot,Swan neck,Condenser,CIP ,Pipe System |
| Vodka Distillery Equipment | 50-5000L | Still pot,Onion head,Column,Dephlegmater,Condenser, Pipe System |
| Brandy Distillery Equipment | 50-5000L | Still pot,Onion head,Column,Dephlegmater,Condenser, Pipe System |
| Rum Distillery Equipment | 50-5000L | Still pot,Column,Condenser,CIP, Pipe System |
| Gin Distillery Equipment | 50-5000L | Still pot,Column,Gin Basket,Condenser,CIP, Pipe System |
| Multi-Spirits Distillery Equipment | 50-5000L | Still pot,Column,Onion head,Dephlegmater,Gin Basket, Condenser,CIP, Pipe System,Collecting Tank |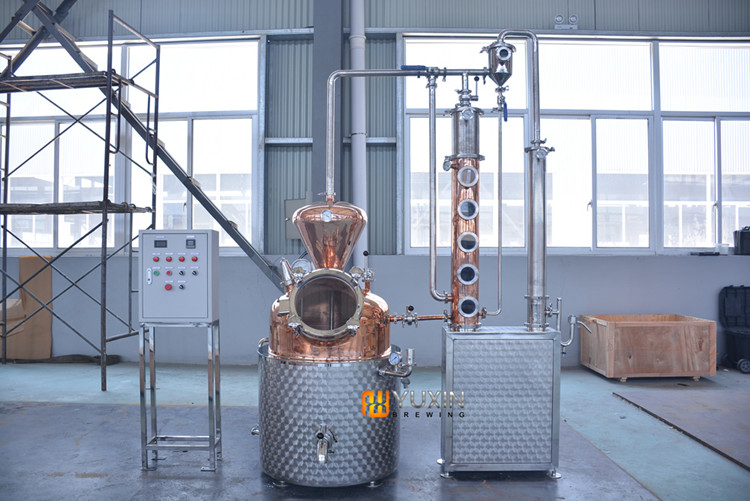 Standard Features:
All parts can be customized
1. red copper, stainless steel 304/ 316
2. Pot still, top, copper head, column,dephlegmator, condenser, parrot outlet, alcohol collecting tank, CIP, connecting pipes.
3. Sight glasses, Temp sensor, analog temp gauge
4. Electric heating (with heating elements)/steam heating/ gas heating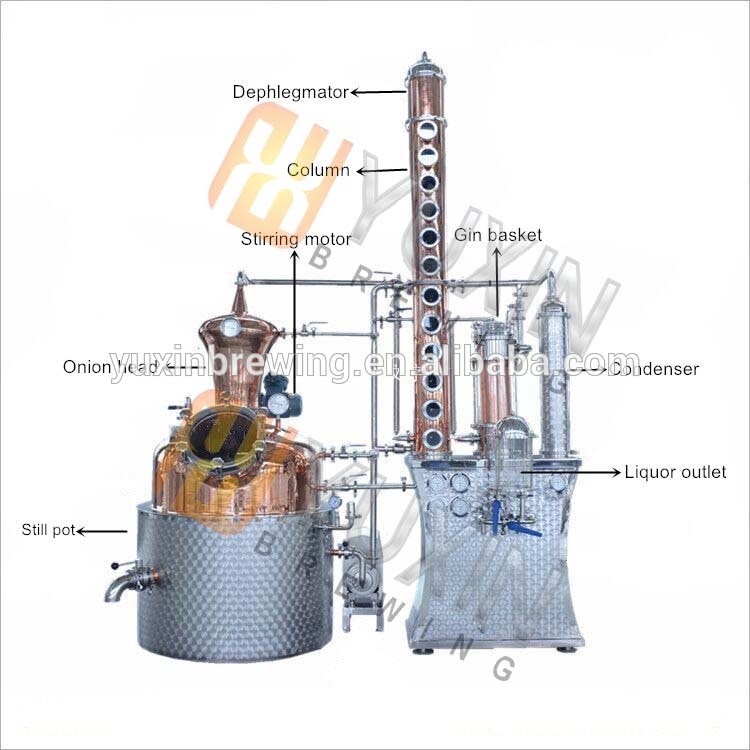 Detail Images:
1. Onion Head

2. GIN basket and High efficiency condenser

3. Glass manway on still pot and alcohol outlet